Setting up email accounts is one of those tasks that tends to wait in the shadows until the final stages of website development, or worse, a week after launch. You read how having an email account for your new site is really important and using a Gmail account just doesn't look professional. So now its time to figure out how to manage email in cPanel.
Despite the hype, designing and developing a website is hard. Even if you are using WordPress with a pre-made theme with no modifications, there is still writing all the content, finding images, loading product shots and descriptions, etc… it takes time.
Even after your site is ready and everything is perfect, little details creep up on you. Site security, SEO and Analytics are a few of the extras that can be easy to forget while focusing on the bigger picture of your business and your website.
Email tends to have a few gotcha's of its own. Setting up your local email program to send and receive using a newly created email account or getting the account to work with Gmail can be troublesome. Sometimes these steps go smoothly, other times not so much. If you know how to manage email in cPanel then you can probably move along. On the other hand, if you have no clue how to set up emails or configure your email client, read on.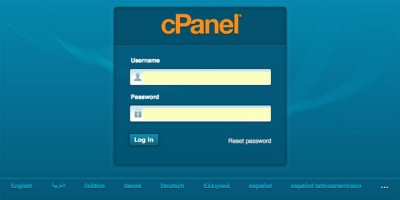 Log in to manage email in cPanel
Using Hostgator's shared hosting cPanel for our example, here are the very simple steps to manage email in cPanel.
The first step is to go to your cPanel login page. cPanel is Control Panel of your hosting account. The URL for this page was in the purchase confirmation email you received right after signing up and paying for the hosting account. It will be something like… https://gator987.hostgator.com:2345
At Hostgator you only have one main username. Choosing it was the first thing you did when signing up for your hosting account. Other hosting companies may require a different username for your control panel.
Once you are logged into your cPanel account you will see all the options available in an intuitive, simple interface. The obligatory up-sells and affiliate offers are… somewhat modest.
Access your Email Accounts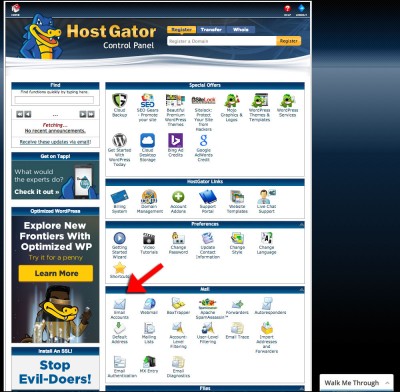 The forth section down on the main column is Mail. The first button, top/left, is Email Accounts. This is the icon to click for creating and editing emails. Click it.
On this page you will see a form to create a new email address. Below the form is a list of all your email accounts.
Create a New Email Account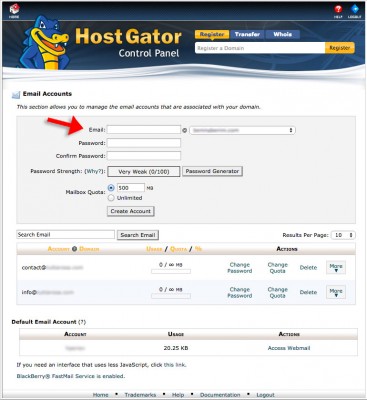 Just fill in whatever you want your email to be. If the email address is taken or if you entered a character that is not allowed cPanel will let you know.
Definitely use the password generator. Write it down on a piece of paper and tape it to the bottom of the desk drawer. Or put it in a file with a filename that has nothing to do with passwords or websites or the internet. Encrypt it then store it somewhere secure, preferably a computer that is not connected to the internet, no WiFi.
Click the Create Account button and your done.

Configure Your Local Email Client
The next step is to configure your email program to communicate with this account. This step can be a P.I.T.A. for sure, however your hosting account will always provide instructions and help is available in several different ways.

If you click the More button you will see a couple options one of which is Configure Email Client. Here you will find all the information necessary to hook up your new email account. They even provide automated apps that will configure your email program for you.

By now you've noticed the "Walk Me Through" tab at the bottom of your browser screen. Clicking this tag, making a few selections and following the step by step prompts will get you through any task you'd need to manage your hosting account including how to manage email in cPanel.